Come Take A Look At Our Products!
Order Checks Online 
Save time and order your checks online at 
Deluxe
 .
---
Overdraft Privilege
| Overdraft Privilege Limits | Amount |
| --- | --- |
| First Generation Select | $800 |
| First Generation Classic | $800 |
| Business Checking | $800 |
| Personal Now | $800 |
| A+ Checking | $800 |
| Hometown Checking | $800 |
| Hometown Plus | $800 |
| Hometown Family | $800 |
| Personal Checking | $800  |
Items that may cause an overdraft are items created by check, in-person withdrawal, ATM withdrawal, or other electronic means.
An Overdraft Privilege Service is available as a benefit of a good banking relationship with First National Bank in accordance with our Discretionary Overdraft Privilege Policy. Overdraft Privilege is not a line of credit. This means that should you inadvertently overdraw your account we have the discretion to cover your overdrafts up to your account overdraft limit as outlined in our Discretionary Overdraft Privilege Policy.
Fees charged for covering overdrafts, as well as the amount of the overdraft item, will be subtracted from this Overdraft Privilege amount as items are paid. It may be possible that your account will become overdrawn in excess of the Overdraft Privilege amount as a result of the assessment of a fee. When your items are paid, this service will help save you the embarrassment and inconvenience of a returned item. Should an overdraft occur, your account will be charged the standard Non-Sufficient Funds fee of $28 for handling each item that is paid by the discretionary Overdraft Privilege. If your account balance remains overdrawn for longer than 7 days, we will charge your account a daily overdraft fee of $1 for each of the consecutive business days the account remains overdrawn, beginning with day 7. Payment of any overdrafts will continue to be at the discretion of First National Bank.
---
Customer Overdraft Policy
It is First National Bank's policy to utilize the JMFA Overdraft Privilege® program to manage customers' checking accounts and build good relationships with customers using the service. However, when a customer exceeds their privilege limit, our policy is not to permit further overdrafts. First National Bank will disclose and charge a fee of $28 per item paid into overdraft, which is the same fee charged for items that are returned. It is our policy that these overdrafts must be covered within 30 days of the first occurrence of an overdraft or the privilege limits will be revoked. Members will be notified of such removal. It is the policy of First National Bank not to allow employees and officers who are identified as insiders to be excluded from participation in the program.
The executive committee from time to time will set a cap if needed on the total dollar amount of all overdrafts. If total overdrafts become an issue, First National Bank will monitor total overdrafts on a daily basis, until this problem is brought back under control.
Upon each occurrence of an overdraft, First National Bank will immediately notify the customer by mail of the negative balance of the account and all fees assessed. The Overdraft Privilege Administrator will utilize periodic mail and/or telephone contact with the customer in order to bring the account to a positive balance. All accounts that remain in a negative status will be charged off by the 45th day or sooner if deemed to be uncollectible. First National Bank will endeavor to identify heavy users, and contact them to see if they qualify for any other program or solution available. First National Bank will counsel with willing heavy users on appropriate money management techniques that would avoid frequent overdrafts.
Decisions to approve overdrafts which exceed the customer's Overdraft Privilege limit shall not be made based on a prohibited basis (e.g., race, color, national origin, sex, marital status, or age).
Our Overdraft Protection services allow you to link other sources you have with First National Bank of Waynesboro to your checking account in order to prevent overdrafts and are less expensive options than an overdraft.
---
First National MasterCard® Debit Card
The easy way to pay, everyday. Use it in more ways and at more places to buy more than ever before.
Our First National MasterCard® Debit Card is an ATM card and checkbook all rolled into one. Use it to get cash at ATMs nationwide and at millions of locations worldwide: dry cleaners to department stores, hair salons to hardware stores, gas stations to grocery stores!
Debit Card Fraud Center
Please be sure we have your most up-to-date cell phone number AND e-mail address!  Why??  Our Debit Card Fraud Center will contact you on your cell number and/or email when they suspect suspicious activity on your FNB Debit Card.  It is
important
for us to have correct phone numbers so the Fraud Center is able to contact you immediately to avoid interruption of your debit card service(s).  Once you are contacted and are able to verify purchases, your card will be unlocked and ready for use immediately.  However, if the Fraud Center is unable to reach you then your FNB debit card will be deactivated to prevent any unauthorized transactions. 
Be sure to add our Debit Card Fraud Center to your contacts to avoid the number showing up as "potential spam."  This feature helps protect your account against possible fraud. 
FNB Debit Card Fraud Center

*Call us to get this contact information today!
Extra Awards
Extra Awards, our rewards program that gives you accelerated earning opportunities and virtually unlimited ways to redeem all the points you earn from using your First National Bank MasterCard® Debit Card.  (Program was formerly known as UChoose Rewards, which is no longer accessible.  Enjoy this updated service by simply just registering online,
visit Extra Awards
!)
How do I earn points?
Now every time you use your FNB MasterCard® Debit Card by saying "credit" and/or signature transactions, you will earn 1 point for every $2 spent everywhere you shop. Earn extra points by shopping at participating national, regional, local, and online merchants. For a complete list of participating retailers and potential point offerings available on your purchases,
visit Extra Awards
.
What can I do with these points?
These points can be redeemed for just about anything, it's your choice! Choose from millions of options, whether it is cash, merchandise, gift cards, travel experiences, activities, event tickets, a vast online rewards catalog filled with practically unlimited options await you.
How do I get started?
Your MasterCard® Debit Card automatically starts earning points at your first purchase!  Visit
my.extraawards.com
to set up your username and password. Here, you can start browsing all the ways you can redeem your points as well as check your current point balance and featured retailers. 


MOBILE WALLET: Apple Pay & Google Pay
Apple Pay and Google Pay will change how you make purchases with contactless payment technology and unique security features built right into the devices you have with you every day.
With Apple Pay, you can use your iPhone or Apple Watch to pay in a simple, secure, and private way.  With Google pay, you can use your Android and/or iOS devices.
Get Started
To get started with Apple Pay, simply click the pre-installed Apple Wallet app followed by the "+" button to add your FNB debit card.  Follow the prompts to add your card, then you are ready to go!  Apple Pay can be used at millions of in store, in app or online shops.  Just look for the contactless payment symbol.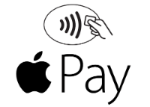 To get started with Google Pay, sign in to pay.google.com to start using Google Pay on your computer.  You can also download the app by clicking the links below:
Follow the prompts to add your card, then you are ready to go!  Google Pay can be used at millions of in store, in app or online shops.  Just look for the contactless payment symbol.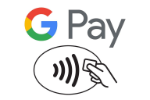 Questions?
For more information regarding Apple Pay, click here.
For more information regarding Google Pay, click here.
---
Credit Card - The Hometown Card with Worldwide Acceptance!
VISA® or MasterCard® Available
Apply today! Pickup your application at our Main Office located on North Liberty Street.
Guaranteed Auto Protection Plus (GAPP)
In the event your vehicle is deemed a total loss due to an accident or theft, your auto insurance policy will usually only cover the actual cash value or market value of your vehicle less a deductible. This settlement could be significantly less than the amount you owe to your lender or lending company. The final result is a financial GAP where you must make up the difference, which could mean thousands of dollars out of your pocket. Avoid this by obtaining Guaranteed Auto Protection Plus when you take a loan with us at First National Bank.
NOT A DEPOSIT
NOT FDIC-INSURED
NOT INSURED BY ANY FEDERAL GOVERNMENT AGENCY
NOT GUARANTEED BY THE BANK
Safety Deposit Boxes
Don't wait until it's too late, call your Customer Service Representative today to reserve your box! Store your valuables from proofs of family photos to your grandmother's jewelry; we have the space for your most cherished possessions.
*Various sizes available